Churn Identification Plan
Churn Identification Plan
Churn is a revenue killer. You already spent the S&M cost to get that customer and then they churn cutting off a source of cheap, recurring revenue. A high churn rate is also a red flag to potential buyers; it alerts a buyer that at least some aspects of your product fall short of expectations and work needs to be done back at the drawing board to get the product/market fit and value proposition aligned.
However, churn will occur. It is your responsibility to put in place a churn identification plan as a predictive tool. By having a system to predict customers who are at risk of churning, you can proactively engage them rather than waiting to be reactive.
The Impact:
Early identification of high churn risk customers gives your team the opportunity to proactively address value shortfalls and reduce churn rates.
The Goal:
Create a system for finding churn risk and a process for addressing customers who are then identified as churn risk.
Steps to Take When Identifying Churn Risk:
Step 1- Identification and Initial Data Gathering
Set up a scheduled time or meeting to address specific goals for Churn Identification Process. Create a template and strategy for work plan, timeline, and needs from stakeholders. Once you have your template in place, take a moment to brainstorm potential churn predictors. Churn can follow from these issues:
Expectation management
Issues with product/use case fit
Loss of a key user
Budget or internal changes
Competition
Negative customer experiences
We recommend beginning at a high-level to organize your search for the factors that predict churn for your customers. Using your team's expertise, make hypotheses of the individual factors within each of the following buckets that may predict churn:
Subscription details
Use
Support
Customer satisfaction
Find at least 10 churn predictor hypotheses. Depending on the time and number of churned customers you have, you may explore more churn hypotheses. The more churned customers, and therefore data, you have, the more hypotheses you can include. You will need the number of churned customers to significantly outsize the number of churn hypotheses so that meaningful relationships can be established.
Assign people responsible for collecting and analyzing data. Delegation is important to remember if you have a large amount of data to sort through or a long list of customers to examine. When everyone has completed their task, schedule a follow-up meeting to bring all of our ideas together.
Step 2- Exploration
This is a short step in writing, but a longer step in practice. Here is where you gather data from Step 1, and organize it on a worksheet. Below lists some of the data you need to collect. You can add more data collection points to fit your company needs. The list supplied is the bare minimum required.
Collect the list of churned customers.
Collect data indicators for each churn hypothesis.
*** Helpful Side Note: If you have many customers on your churn list, this can be a time-consuming step. Delegating is a priority at this stage if you want to get the data quickly.
Step 3- Analysis
Analyze relevant case data from past churned customers to determine any relationships between churned customers and churn hypotheses. This is not a rigorous, scientific data review. Rather, you are looking for relationships between variables and quality.
The relationship does not need to be linear; in other words, as a variable increase, the likelihood of churn does not necessarily need to increase. Rather, look for clusters (i.e. all churned customers had Pro subscription plans) to guide your analysis. Support clusters you find by checking to see whether a relationship holds (i.e. are there Pro customers who don't churned?)
Determine whether each churn hypothesis has a neutral or positive effect on churn. Finding the trend can help later when discuss next steps. It will add to the picture of what makes a positive or negative impact to churn,
Finish the analysis with a final assessment for each factor. This one-line, definitive statement clearly shows the impact each factor has on customer value.
Step 4- Gut Check and Process Generation (AKA Another Meeting)
After a period to process the information sent, reconvene to discuss the findings. Find out what your team thinks about the data gathered. Open the floor to questions like these:
How do you feel about the churn predictors sit well?
Are these predictors leading or lagging indicators?
Is there a more fundamental predictor you should explore?
Formally name the churn predictors you would like your team to use. You have talked about your thoughts during your meetings. Now, it is time to "officially" commit to your theory by writing it down and sending it to your team.
Using these churn predictors, generate a process to proactively identify customers who constitute a churn risk and then engage them to minimize the churn risk. Be sure to include specific, measurable indicators that will indicate whether the process is working. For example:
How does the churn rate track over time?
What about among the cohorts with risk factors?
Is there improvement or did we miss the churn indicators?
Does something else need to be tracked or product/process improvements made?
Step 5- Conclusions
Gather your conclusions and process in a document to store and communicate with the right team members. Now, you understand the factors around your churn rate. Next steps are to set up a plan to get your churn numbers to where you want them. Be sure to add your own list of recommendations- you are now the expert in the churn process for your company.
For More Information About Our Plays:
For detailed information about our playbook and insights from our team contact us at venturepartner@gstdev.com. Our goal is to help your business come out on top - let us help get you there.
About GST:
GST was founded in 2011 by Isaac Shi & Dougal Cameron. They are a Houston based global software company that supplies critical growth and R&D services to Technology and Tech-Enabled Businesses. The GST Team has a proven record of stepping into complex technical and operational environments to improve profitability, optimize cost structures and support strategic growth all within a tight timeline and limited budget. For more information please visit https://www.gstdev.com/covid-19.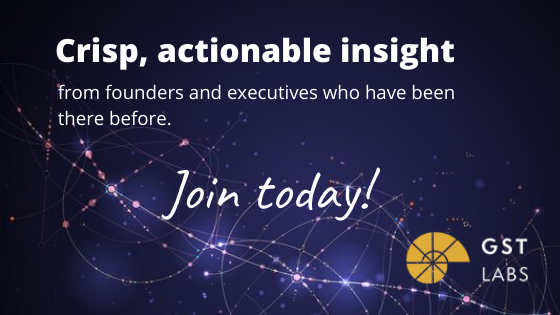 ACTIONABLE INSIGHT FOR SEED AND SCALING B2B FOUNDERS AND TEAMS
Learn how to build a great company
GST Labs is a community of experts in strategy, finance, technology, product, development, sales, and operations. The collaborators each have significant insight for B2B SaaS firms. Subscribe today to keep in the loop and get special access to world class content and tools.