Designing a Scalable Enterprise Sales Strategy
Are you drowning in leads to chase down? Does your SaaS sales group spend a lot of time on deals only to find out they have gone with a competitor? Do you have more than a few deals die at contracting? If you answered yes to any of these questions, you might need an enterprise sales plan.
Dougal Cameron with GSTVC joins us today to share his insight in designing an enterprise sales strategy that scales and drives repeatable results.
Backstory
A few years ago, I served on the board of a software company with a long-term enterprise sales cycle. The company had not hit its sales goals for six months, but the pipeline looked strong the entire time. This confused the board.
The management team focused on a few deals each meeting that seemed imminent. The board expressed concern with the investment allocated to winning these few accounts. But the management team insisted on the legitimacy of the opportunities. The board relented.
Days turned to months and the team had still not closed a deal. The board realized it had almost been a year since a large new sale from a new client. This resulted in the board changing management.
On one deal, management traveled to the prospect's office three times with an entourage of team members. The company had invested eighty-thousand dollars into this deal when it died. The investment level is not unusual for sales with average contract values exceeded $2M. But, it concerned us that so much investment occurred on an account that was unlikely to close.
The management team at this company had long track records running similar companies. They lacked a scalable enterprise sales strategy. This lack of strategy resulted in them missing the key signals that the customer would not buy.
Designing an enterprise sales plan
Company leadership owns responsibility for qualifying a sale and not wasting time. This is not a responsibility of the customer. I recall an angry call from a guy that quoted me on a home remodel. His was angry with me for not following up with him on my interest; or lack thereof as it turned out. It shocked me that he thought it was my responsibility to stay in touch with him rather than the other way around. But I realized that this is all too common in SaaS sales. Founders and teams complain about customers who won't commit. They dont realize how they are complicit in this outcome.
A well-designed enterprise sales strategy walks a customer through a journey. It neither pulls nor pushes, but instead gently guides. Successful strategies highlight the problem. Next, they show how your solution can solve the problem.
Prerequisite work
An effective sale requires a lot of moving parts to operate together. This overview assumes the following prerequisites:
Compelling value proposition
Established marketing channels and active leads
Existing sales team
Existing marketing collateral
Existing enterprise contract structure
Reference clients
The components of a scalable enterprise sales strategy
A scalable enterprise sales strategy allocates resources to the best opportunities. These are the opportunities most likely to close. This is crucial. Efficient allocation of your team and resources can be the difference between closing sales and spinning wheels.
There are only 168 hours in a week. If your team is spending their time talking to the easiest customers , then they might not be allocating those hours correctly. In the meantime, real deals are aging and looking for other solutions.
Document the customer journey clearly
The steps of the sales process should be documented and clearly thought out. Typically, these include the following stages:
Lead generation
Qualification
Needs analysis
Solution demonstration
Closing
Contracting
Win/Transition
These stages should be complete with verifiable evidence before progressing to a new stage. This evidence should make the founder and management team comfortable expecting that the customer is truly at that step. Then against this list of stages, your team can assign probabilities of closing the customer. Under normal conditions, qualified deals (i.e. after the qualification stage) should close with an 18% probability.
These probabilities allow your team to understand what a customer is worth at each stage on a probability weighted basis. This allows you to align your sales and marketing investment against these stages. The investment allocated to each stage should be less than the incremental value of surpassing that stage.
Monitor the journey with management information and control systems
The plan should include documented information and control systems. Within the sales team, a good best practice to adopt is a daily standup on any deals in the closing or contracting stages. This insures that deals that are close to the finish line get the attention necessary to get them across the goal line. Often times, deals can stall at the end because sales feels like it is in the bag.
Here are a few good meeting rhythms to consider:
Weekly pipeline review with sales leadership and senior leadership team – focus on the close to closing opportunities and any friction between sales and other departments.
Monthly sales performance meeting with sales leadership and senior leadership team – focus on the actual results against plan as well as any feedback from results that informs capacity required to achieve the plan.
Daily standup with sales team – focus on getting appropriate attention to the high probability deals.
Weekly pipeline review with sales team – focus on the top of the funnel and ensuring the pipeline stays filled.
In addition to the management control systems, the sales organization should be producing the following reports:
Pipeline report – deal number and value in stages
Pipeline additions/subtractions
Close won report
Close lost report
Rotting deals report
Sales rep metrics
Power the team with templates, scripts and processes
A successful customer journey requires high quality content, proposals, demos and presentations. Accomplishing this with a team requires leveraging templates, scripts and processes.
From our experience, here are the templates that are needed at a minimum:
Company pitch deck with templatized customer customization
Customer value proposition or return on investment slide
Proposal template
Customer meeting / demo agenda template
Site visit agenda template
Contract and work order form
Scripts are also useful to ensure the team is communicating a consistent message. The larger the opportunity the more latitude sales professionals typically have in crafting a message. In these cases, scripts typically are replaced by processes and a form to create a custom script. For instance, at an inpatient health IT company I ran we used a template to enable sales to design the script for the demo experience.
Here are a few examples of areas where scripts can be helpful:
Lead gen initial call and solution overview
Company description
Demo
Proposal delivery
Reference site visit overview
Contract delivery
Conclusion
A well-designed enterprise sales strategy is essential to the success of any B2B SaaS company. It ensures limited resources are aligned to support the most likely deals. This increases the velocity of revenue in the company and results in a more capital efficient journey for the company.
In a B2B SaaS seed stage firm there are thousands of things to do each day. It can feel overwhelming. One of the most powerful things a founder and team can do is focus on designing a scalable enterprise sales strategy. It will become a piece of key IP and enable predictability in the business as it grows.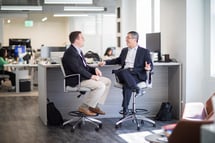 Actionable insight for seed and scaling B2B founders and teams
Learn how to build a great company
GST Labs is a community of experts in strategy, finance, technology, product, development, sales, and operations. The collaborators each have significant insight for B2B SaaS firms. Subscribe today to keep in the loop and get special access to world class content and tools.