Engaging Autopilot: How to Leverage Process to Scale Faster
The terms "Total Quality Management", "ISO", "Six Sigma", and etc are often thought of as antiquated concepts in the minds of B2B SaaS founders and teams. The entrepreneurial ethos seems to eschew process and rigor in exchange for flexibility and growth.
Even rigorous project management methodologies like Agile are often misunderstood and manifest as a free for all with zero attention to documentation. High performing B2B SaaS founders and teams understand the power of processes and how leveraging it can yield a faster growth rate and more aligned team.
Today, Dougal Cameron with GSTVC joins us to share how process can help bullet-proof a growth strategy and build a competitive moat.
Plan / Do / Check / Act – the PDCA methodology
All quality management systems are built on the concept of total quality improvement. Each subprocess and dependency in the macro process of converting inputs into a consistent and satisfactory output must be constantly reviewed and improved. The process of improving processes is the PDCA cycle.
What this means for a B2B SaaS founder is that her company will become less prone to low quality customer experiences or code outputs over time. The PDCA cycle is very simple:
Plan – identify your problems
Do – test potential solutions
Check – study results
Act – implement the best solution
This is the same process advocated in the Lean Startup for continual improvement and experimentation. While the Lean Startup is recent, manufacturing and service companies have used PDCA to foster continuous improvement for more than fifty years. Edward Deming popularized the process but referred to it as the "Shewhart cycle." (https://en.wikipedia.org/wiki/PDCA)
Five simple steps to becoming process oriented
Implement a process-oriented approach is simple. The key here is to not overthink or over-architect it. More process-oriented approaches die from overkill than from lack of rigor. In the B2B SaaS world, it is key to get buy in and have the documented processes used.
1. Design a process template
The first step is designing a process template. I have found a Microsoft Word template to be best for this. But you could also use Google Docs or a process mapping tool like Process.St. The key is to design a template that all processes will follow.
The template should include or consider the following points:
Name of the process
Owner of the process (the role in the organization responsible for it)
Author of the process (the author of that specific version of the process)
Goal of the process
Roles in the process
Workflow of the process
Location of forms or documentation or systems required by the process
Version history
2. Hold a quality planning meeting
Next, get your executive team together and have a meeting on the concept of total quality improvement. The goal in this meeting is to define what your main inputs and your main outputs are as an organization. This will help define which processes are most important to create first.
Generally, we have found that an indicator of a need for a process is the occurrence of multiple similar failures. Here are some of the areas we have found processes to be most valuable for B2B SaaS founders and teams:
Support escalation process
Customer contracting process
Sales to support/implementation handoff process
Invoicing and rev rec process
Customer contract renewal process (yes, even if the contracts auto-renew)
Employee onboarding process
Vendor onboarding process
… etc
3. Design your first few processes
Here is where it is important to think small. The list above and a meeting with your team will likely result in a dozen or more processes. But processes are like New Year's resolutions; they are easy to make a very tough to follow. It is important to think small and establish a rollout plan on a few key processes.
The process owner is key here as well. She will be in charge of ensuring the process is followed and responsible to engage with people who violate the process. We have found most people can truly handle only a handful of processes. Obviously, you want the process owner to be ultimately responsible for creating the final version.
4. Create a process repository
All these processes are worthless unless your team can access them fluidly. Think through how you operate. You could do-it-yourself with Slack Bots to serve up processes as an answer to a question, or you could go with a more off the shelf Quality 2.0 product like QMSC. The key is access and access control. There are some processes you might want to ensure are kept confidential.
Once you have your repository with a few key processes then it is time to hold a kickoff meeting with the entire company to educate everyone on the importance of following processes and how they can help define new ones.
5. Audit your processes
Well-designed processes will have proof of completion. For instance, if a customer contracting process requires a contract to be internally reviewed by the CEO if over $50K per year then there should be evidence that such a review happened like an email approval that is saved alongside the contract. This evidence proves the process worked and is essential as you scale.
Once you have your processes running for about a month, it is a good idea to hold an internal audit to review the robustness of your processes. This should be kept simple. The process owners get called together and the founder and leadership team will select a few process items at random to be demonstrated. After a day or two, the process owners should be able to supply evidence that the process was or was not followed for those items. The results of this audit should be logged and any process violations documented with a follow-up to determine the root cause and revise the process.
Conclusion
The lack of process rigor in the B2B SaaS space is truly remarkable. Very few organizations have more than a stale snapshot of past processes. Becoming process oriented and driving a process-oriented approach with your team can transform your business from critically personnel dependent with a long onboarding time to operationally redundant and rigorous with fast onboarding cycles for new employees and vendors. With the pace of change in B2B SaaS, founders and teams do not have the luxury of ignoring process.
Disclosure: The author's firm, GSTVC, owns a portion of QMSC.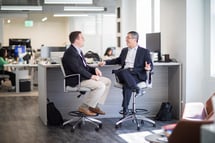 Actionable insight for seed and scaling B2B founders and teams
Learn how to build a great company
GST Labs is a community of experts in strategy, finance, technology, product, development, sales, and operations. The collaborators each have significant insight for B2B SaaS firms. Subscribe today to keep in the loop and get special access to world class content and tools.