How to Leverage Events for Strategic Selling
Do you have an event-centric lead generation and sales strategy? Selling at trade shows, association events, executive junkets, and other such venues is a long standing and successful strategy for enterprise SaaS sales teams. Dougal Cameron with GSTVC walks us through some past experiences in the area as well as a few thoughts that might help with your strategy.
An interesting experience
A few months in my role at Prognosis, an EHR platform serving the rural hospital and health system market, we had finally made enough progress on our turnaround that a trade show seemed like a good next step. We signed up as a minor sponsor which provided us a small spot in the exhibit hall and a few badges.
Despite our modest purchase, the investment was significant for us at the time. It represented at least one month of a fully burdened sales professional in the field. We needed to leverage this investment. We decided to sponsor an unofficial dinner at the event location with a service partner of ours that had a compelling and educational presentation.
We hoped for an audience of a couple dozen attendees representing the c-suite of fifteen to twenty prospects. Kyle, on our sales team, acquired a prior year's list and we sent out a Paperless Post invitation to our event. Through an initial blast followed by three reminders, we had secured more than 100 attendees representing about 100 prospects. The numbers blew us away. The optimistic internal plan for the year only required twelve sales. This performance promised to set us up with a year's worth of active opportunities.
As the dinner approached, our team called the attendees to confirm verbally as well as establish a relationship to build upon during the event. We directed all sales resources to this opportunity.
Finally, the day arrived. The first day of the trade show involved some meetings with a few clients and vendors. That evening our team got to the restaurant an hour early to set up. Given the RSVPs, we had preordered steaks, wine, and had a significant amount of collateral created for the event.
At ten past the hour, an uneasy feeling began to set in. Only four attendees had arrived and all of them were from one hospital. The next twenty minutes brought only two more attendees. We had a grand total of six people show up out of an RSVP list of more than 100 and a food and beverage investment of more than six thousand dollars. We double checked our email and Paperless Post for last minute cancelations but couldn't find even one. I couldn't believe it and my mind searched for answers.
The next day we discovered that another service provider in a different sector had several tour busses in front of the hotel and was handing out tickets to a baseball game. His sales tactic tanked our dinner. He won the show.
Strategic event selling
We learned in that experience that operating outside of the event structure can be risky. Our subsequent efforts were limited in scope to smaller settings of no more than ten attendees. Interestingly, our sales team salvaged the infamous dinner with follow-up calls to apologetic leads. The guilt pushed a few of them into our pipeline.
Successful selling in our market required significant brand equity or an established relationship. Given our small size in comparison to the competitors, we had to rely on established relationship. This meant focusing on events to build a relationship and partnership selling through tangential service providers; for which, event attendance was required to maintain the relationship.
We developed an event strategy over time that honed our approach and started paying dividends. Here are a few principles we learned.
1. Be prepared for failures
There are good events and there are bad events. We attended a different show later that year and had a similar experience; albeit on a much smaller scale. You will not be able to know good events from bad ones until you experience it for yourself. Some events are designed for the executives to get a break with their families and have the vendors pay for it. While others are genuinely interested in vendor success. In both cases, they want you and your money there.
Here are a few tips we learned to limit failure:
Connect with the event team. You can generally get a sense of which type of event this is from the team.
Ask for a vendor reference. Similar to a job reference, they are only going to give you a good one, but you should be able to glean some insight from the call.
Check your network. If you have clients who attend that show, ask their feedback and whether they would invest in attending if it were their business.
Call a few past vendors. You should be able to get a past show brochure which will have the logos of prior exhibitors. Call a few that weren't on the reference list.
2. Keep track of your lessons learned
Hold a post-mortem with your team after the show. The ultimate question is whether you should make that investment again. Most of the time, your team will know the day after the show whether it was worthwhile and then time will tell from the data in your CRM.
You should also track the lessons learned from shows that you would repeat. These lessons become valuable IP to the organization. It is part of your unique sales plan that is fundamental to the firm's valuation.
Finally, it can be valuable to enhance your lessons learned by sharing with your sales partners. Be careful who you share your information with, but a key sales partner can add significant insight and enhance your knowledge of how to successfully navigate each show.
3. Invest in a booth
We had a really nice booth. The total investment was less than $15,000. However, compared against a $2k or $3k table top setup, it presented very well.
If you are going to have an event selling strategy you need a booth to present your company and hold meetings. While the upfront cost seems steep for a seed stage or scaling B2B SaaS firm, the amortized cost over fifteen or twenty shows and the improved performance makes it worthwhile.
4. Build a checklist
The worst thing that can happen at a trade show is forgetting something critical. Unfortunately, there are a lot of critical things: the power unit for the booth, sales collateral, business cards, etc. Each one can be devasting.
A checklist solves that problem. Conveniently, it can also be improved during the post mortem and a show specific additional one kept as well.
Conclusion
Event selling is still an incredibly valuable channel for B2B SaaS teams and can be particularly valuable for seed stage to scaling companies. Having a game plan and a way to track your lessons learned as well as high end collateral can make a huge difference.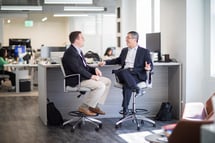 Actionable insight for seed and scaling B2B founders and teams
Learn how to build a great company
GST Labs is a community of experts in strategy, finance, technology, product, development, sales, and operations. The collaborators each have significant insight for B2B SaaS firms. Subscribe today to keep in the loop and get special access to world class content and tools.