Untapped Potential: Making the Most of Your Board
Most board meetings are nothing more than risk mitigation sessions for key investor stakeholders to ensure their investment is protected. But the true value of a board is the insight that experienced professionals can add to the management team and the way those professionals can help set the strategy for the company. Dougal Cameron from GSTVC shares with us his view of how to design a value-added board meeting.
Background
I have attended, presided or presented at hundreds of board meetings. For the most part, they are bland and boring for participants and nerve wracking for management. The entire meeting consists of management presenting numbers and status reports with very few, if any, questions for the board beyond procedural resolutions. In contrast, value-added board meetings are dynamic and lively; full of discussion and heated debate.
This shift doesn't happen on its own. Traditionally, the role of setting the agenda and calling the meeting falls on the chairman. However, in most seed stage to scaling firms, the CEO plays this role. Migrating from the default progress report to an engaging value-added debate takes focus and attention.
The five-step plan to a value-added board
We have found the following five steps to be valuable in making this shift happen.
Design your board
The first step is knowing who is on your board and who you need on the board. These can be two different things. Develop a strategy for what the board should ultimately look like.
Diversity plays a major role here, but not necessarily in the way traditionally conceived. When we say diversity, we mean diversity that leads to different thought patterns, not proxies for different lived experiences. When you get people that have scaled sales teams together with people who have implemented a multi stage capital strategy you are getting an interesting mix of diverse views.
Most of the time management wants a board of enthusiastic and lenient yes-men. These are not the type of directors you want. A skeptic that requires in-depth analysis and introspection on every point can be very valuable for typically optimistic entrepreneurs.
Create an expectations guide
Create a job description for your board and make sure each board member knows their role. This can help set expectations. It should include what you expect from them in pre-work before a meeting as well as what they can expect from you in content in advance of a meeting.
Create the content
Designing a value-added board meeting means asking more questions in a case format than you spend updating on progress. Ideally, the update should have been submitted prior to the meeting and doesn't require everyone to review it together. This is a key distinction between the bland default meeting and a value-added dynamic meeting.
The major sections of the content should include:
1. Progress update
The content should succinctly update the board on the progress of the firm against the major strategic initiatives from prior board meetings. The first section of a value-added board meeting consists of Q&A related to the progress report.
Generally, this update will cover the following sections:
P&L vs Budget
Revenue vs Budget
Sales & marketing statistics
Operational statistics
Support metrics
Customer satisfaction scores
R&D roadmap, changes, and progress
Employee headcount and changes
Strategic initiatives status and progress
2. New strategic data
The next section of content should include an overview of insights, lessons learned, and other such data that can lead to a new strategic direction. This information should be presented without analysis to the extent possible. The board should spend a substantial amount of time discussing this data and whether new strategic directions should be taken based upon the data.
Here are a few ideas of sources for this type of data:
Close-lost report with reasons
Churn report with reasons
Employee turnover report with exit interview content
Gross margin by customer
Support hours by customer
Fundraising conversations and progress
3. Risk update
This section of the report should include a report on existing risks and an overview of new or emerging risks from management's perspective. It is hard to strike the right balance between sufficiency and importance in this report. If everything is a risk, then the board will likely not pay enough attention on the truly important ones. However, it is usually the emergent risks that have the potential for significant business disruption.
4. Resolutions and administrative
Most board meetings spend a ton of time on the progress update, leave no room for questions, and follow-up with resolutions through email. This section is important as it is typically what management is asking the board to grant them in authority. There will likely be things that come up during the meeting that require a change to the resolutions, but the initial draft should be what management believes will be the outcome. In addition, the board should spend some time on the wording and layout of the resolution.
One on one meetings
The CEO should develop a good working relationship with board members outside of the formal meeting. This allows the unique attributes a particular board member can bring to the meetings to be better planned and allows the CEO to know what questions to direct to a specific member during the meeting. Variability in personalities require different strategies to engage. Some people are better in one on one environments while others thrive in group settings. Getting the most out of your board meeting requires knowing who is on your board and how that individual can best add value.
Follow through
The most important thing to remember is to always follow through with your board. Maintaining a value-added board structure requires constant attention and it is the responsibility of the CEO, not the board members to maintain it. Make sure that the version of the value-added structure you design is something you can maintain along with the many responsibilities you already carry.
Conclusion
A value-added board meeting can impact your business in profound ways. While managing the board is traditionally the responsibility of the chairman of the board, the CEOs in most seed stage and scaling B2B SaaS firms are laden with the task. Reclaim the eight hours you and your team spend preparing and attending these bland encounters and convert it to a dynamic value-added exchange.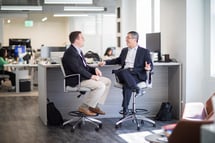 Actionable insight for seed and scaling B2B founders and teams
Learn how to build a great company
GST Labs is a community of experts in strategy, finance, technology, product, development, sales, and operations. The collaborators each have significant insight for B2B SaaS firms. Subscribe today to keep in the loop and get special access to world class content and tools.